Frequently Asked Questions about Florida FR44 Insurance.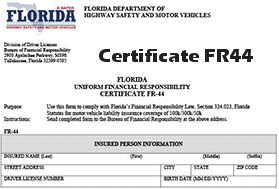 Many Florida drivers have been charged with driving under the influence(DUI/DWI). We know the DUI insurance market and help countless individuals who have been convicted of a DUI. Our agency will help you find the right FR44 insurance to best fit your needs. We offer FR44 insurance all across Florida (Miami, Ft. Lauderdale, West Palm, Melbourne, Jacksonville, Tallahassee, Gainesville, Tampa, St. Pete., Orlando, Naples, etc.)


What is the FR44 filing?
A FR44 filing was created to make sure that a driver convicted of a DUI carries liability limits of 100/300/50. The state of Florida requires people convicted of a DUI to carry the higher bodily injury and property damage limits to protect the general public if they hurt someone in a car accident. A FR44 filing is submitted to the state of Florida electronically after the policy is written to certify the driver has the required higher coverage limits.
How long is a FR44 insurance carried?
Most times a FR44 is required for three years from the time you are convicted of a DUI. After conviction, you are notified by the state of Florida with the exact date that the three year period starts. You can contact the Florida DMV to get the exact date your FR44 is no longer required.
(Important Note) A break in coverage results in the three year count down starting over.
How much does FR44 insurance cost in Florida?
Price/Rates are determined by many multiple factors such as age, sex, driving record, claim history, credit score, and location. We can quote your insurance online - just
CLICK HERE
for the link to get a quote now, or call us for an INSTANT QUOTE at:
877-923-4111
.
Can I get FR44 insurance if I do not own a vehicle?
Yes, if you do not own a vehicle you can purchase non-owner FR44 insurance.
Can I make monthly payments on my FR44 insurance?
The state of Florida requires new FR44 policies to be paid in full for six months at a time. Some companies may allow you to make monthly payments on your FR44 policy at renewal.
If you are in need of a quote, or immediate assistance please call us now at:
877-923-4111
Return to Main Page